KÜNSTLERVEREIN WALKMÜHLE

Ausstellung »Die Energie des Lichts«
Exhibition »The Energy of Light«

–> Ausstellungs-Webseite | Exhibition website (English)





Künstlerinformation / Artist information (translation below)



Simone Zaugg

www.simonezaugg.net
»Minenspiel« (Videostills), 2019

Video, Full HD, Farbe, Stereo-Sound, 12 Minuten 50 Sekunden.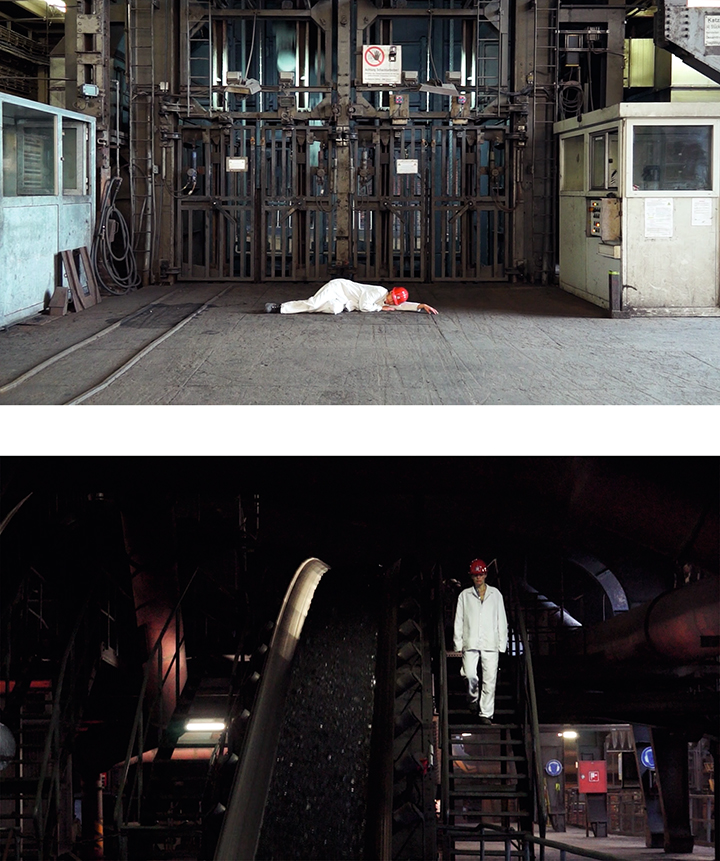 Simone Zaugg: »Minenspiel«

1-Kanal-Videoarbeit
Konzept, Drehbuch und Regie: Simone Zaugg
Kamera: Simone Zaugg
Kameraassistenz: Monika Balter, Michael Jezierny, Pfelder
Ton: Pfelder, Simone Zaugg
Schnitt: Michael Hewlik, Simone Zaugg
Video-, Sound- und Textdesign: Michael Hewlik
Darstellerin: Simone Zaugg
Video Master: Full HD (1920 x 1080), Colour, PAL, 16:9, Stereo, Länge: 12 Min. 50 Sec.
Ort und Jahr: Bergwerk Ibbenbüren, D, 2019


Es gibt kein Ende – nur Übergänge. Mit diesem Credo begleitete Simone Zaugg das letzte Jahr des Deutschen Kohlebergbaus in Ibbenbüren in der tiefsten, nördlichsten und letzten Mine, die Ende 2018 unwiederbringlich stillgelegt wurde.
In einem respektvollen Austausch, in Zusammenarbeit und im Dialog mit den Menschen in der Region wurde ein unumstößlicher, einschneidender und trotz des definitiven Endes auch in die Zukunft weisender Moment filmisch dokumentiert, inszeniert und festgehalten. Mit performativen Handlungen im räumlichen Kontext des Bergwerks wurde die im Dialog recherchierte Atmosphäre der bevorstehenden Schließung in vielschichtige Bilder übersetzt und filmisch interpretiert.
Minenspiel ist ein künstlerisches Filmdokument, das das Publikum in die Tiefe und in die Welt der Kumpel schauen, aber auch ins Freie denken lässt. Es geht nicht nur um die Stilllegung des Bergwerks und das Verschwinden einer ganzen Berufsgruppe, sondern darum, ein Gedächtnis, eine Begegnung und eine Perspektive im Spannungsfeld von Tradition und Vision, Arbeit und Stillstand, Abschied und Aufbruch, Verschwinden und Zukunft zu schaffen.

Simone Zaugg versteht ihre medienübergreifenden und kontextbezogenen Arbeiten als Orte, an denen sich die Betrachter*innen durch Raum und Zeit bewegen. Ihre installativen und performativen Werke verbinden Bild-, Gedanken- und Projektionsräume mit wirklichen Räumen, so dass die visuelle Sprache von der Wahrnehmung der jeweiligen situativen und kontextspezifischen Atmosphäre begleitet wird. Die Frage, wie das künstlerische Schaffen zu gesellschaftlich relevanten Themen beitragen kann, ist Teil ihres künstlerischen Schaffens und Handelns.
Wenn sie als Künstlerin agiert, reagiert sie auf die vorhandene architektonische, soziale, kulturelle, historische, landschaftliche und urbane Substanz. Der Mensch ist ihr physisches und psychisches Bezugssystem und dient bei ihren Arbeiten und Interventionen sowohl im Kunstraum als auch im öffentlichen Raum als Maßstab und Seismograph. Ihre künstlerischen Strategien basieren auf einer sensiblen Integration des Publikums und seiner körperlichen, sinnlichen und mentalen Teilhabe an ihren orts- und kontextbezogenen Inszenierungen.
1-channel video work
Concept, script and direction: Simone Zaugg
Camera: Simone Zaugg
Camera assistance: Monika Balter, Michael Jezierny, Pfelder
Sound: Pfelder, Simone Zaugg
Editing: Michael Hewlik, Simone Zaugg
Video, sound and text design: Michael Hewlik
Performer: Simone Zaugg
Video Master: Full HD (1920 x 1080), Colour, PAL, 16:9, Stereo, Length: 12 Min. 50 Sec.
Location and year: Ibbenbüren mine, D, 2019

There is no end - only transitions. With this credo, Simone Zaugg accompanied the last year of German coal mining in Ibbenbüren at the deepest, northernmost and last mine, which was irretrievably shut down at the end of 2018.
In a respectful exchange, in collaboration and dialogue with the people in the region, an irrevocable, incisive moment that also points to the future despite its definitive end was documented, staged and captured on film. With performative actions in the spatial context of the mine, the atmosphere of the imminent closure researched in the dialogue was translated into multi-layered images and interpreted cinematically.
Minenspiel is an artistic film document that lets the audience look into the depths and into the world of the miners, but also lets them think outside. It is not just about the closure of the mine and the disappearance of an entire occupational group, but about creating a memory, an encounter and a perspective in the field of tension between tradition and vision, work and standstill, farewell and departure, disappearance and future.

Simone Zaugg understands her cross-media and contextual works as places where viewers move through space and time. Her installation and performance works combine image, thought and projection spaces with real spaces, so that the visual language is accompanied by the perception of the respective situational and context-specific atmosphere. The question of how artistic creation can contribute to socially relevant issues is part of her artistic creation and action.
When she acts as an artist, she reacts to the existing architectural, social, cultural, historical, landscape and urban substance. The human being is her physical and psychological frame of reference and serves as a yardstick and seismograph in her works and interventions, both in art space and in public space. Her artistic strategies are based on a sensitive integration of the audience and their physical, sensual and mental participation in her site- and context-specific stagings.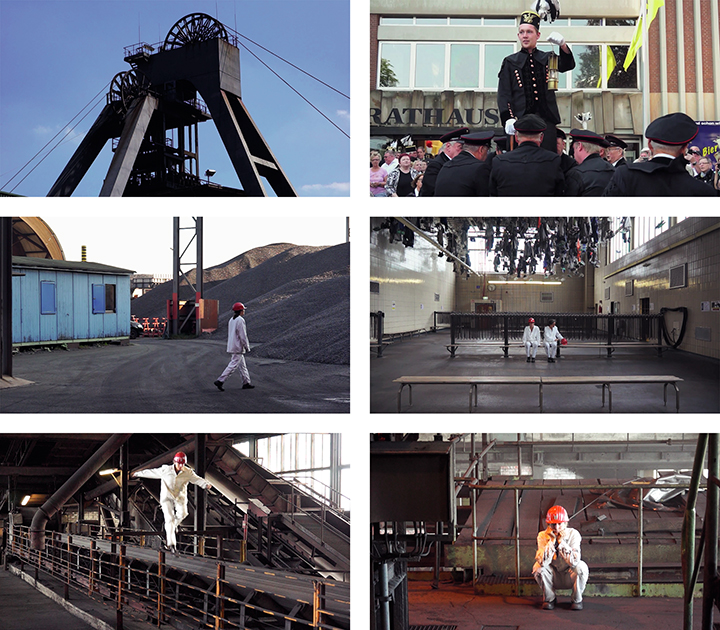 »Minenspiel« (Videostills), 2019

Video, Full HD, Farbe, Stereo-Sound, 12 Minuten 50 Sekunden.






© Künstlerverein Walkmühle e.V.